History of the name TAGE
I've always been a strong believer in working with what you have. One morning in the spring of 1993 I went on a hike with friends in northern California. We made our way up a well travelled six-mile trail to the top of Mount St. Helena outside Napa valley.
The 360 degree views from the top were spectacular. Mt St Helena is the highest peak in any direction for at least 90 miles. The summit is also home to an amazing amount of technology. Antennas, cell phone towers, satellite dishes and power lines were scattered all over the peak.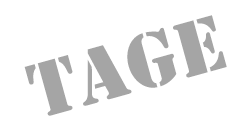 At one point while hiking around an isolated pile of rocks at the top I looked down at my feet and found a word staring back up at me. It was a rectangle stencil that clearly read TAGE. I picked it up and inspected it closely. What the heck was a TAGE and why was it at the top of this mountain? I concluded it must be an acronym of some sort that I was unaware of. I placed the stencil in my pack and headed down the mountain.
On the way down the trail I mentioned the stencil to my friends. No one had ever heard of TAGE or could think of what it stood for. Once I got back to civilization, I looked up the word in the dictionary. TAGE was not a word in English. In German it translated to the word "Days". This did not solve the mystery of why it was on top of the mountain.
At the time, we were just days away from starting a great adventure in Alaska. We had backpacks, sleeping bags and various gear all organized for our trip. Since we now had a stencil that had no meaning, we quickly made it our own by spray painting TAGE all over every piece of gear available. TAGE was now a household name (at least in this house).
Days later, I pulled out the stencil and looked at it again. It was a perfectly formed rectangle... except for one rough edge. It was not until I closely inspected the leading edge that it dawned on me. This stencil never said TAGE to begin with. This was a piece of a larger stencil.
I thought back to where I found it. At the top of a mountain, surrounded by telecommunications gear and electrical components. Of course! I smiled and laughed out loud. The original stencil read: HIGH VOLTAGE.
When it came time to apply for my first business license in Anchorage Alaska, there was only one clear choice. TAGE was born.